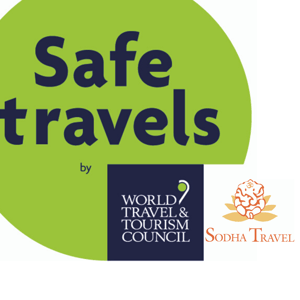 As international borders start to reopen, Sodha Travel is fully committed to the health and safety of our clients. By adhering to new global standards and safety regulations, we have been designated a Safe Travels company by the World Travel and Tourism Council. The stamp recognizes that Sodha Travel has implemented health and hygiene protocols that are aligned with the WTTC.
From operational and staff preparedness to enhanced cleanliness and hygiene practices, Sodha Travel is ready for this next phase of adventure. Many thanks to the WTTC, the global authority on the economic and social contribution of travel and tourism.
As a Safe Travels company, we commit to the four pillars implemented by WTTC:
Operational and Staff Preparedness
Delivering a Safe Experience
Rebuilding Trust and Confidence
Implementing Enabling Policies
We invite you to review the comprehensive global protocols for more information.
Together with the WTTC, Sodha Travel ensures coherence through a coordinated, collaborative, and transparent approach.