Thailand features more than 1,500 miles of coastline spanning the Gulf of Thailand and the Andaman Sea. Two of the most popular seaside escapes are Phuket and Krabi. Generally speaking, Phuket is more crowded and commercialized while Krabi is quieter and less developed. If you prefer entertainment, nightlife, and a social vibe, Phuket is the better destination. Krabi features incredible vistas and arguably better diving. (And for family travel? Phuket offers more kid-friendly attractions and dining options.)
From relaxation to rock climbing, check out Sodha Travel's list of the best beaches in Krabi and Phuket to help match your seaside style.
Phuket Beaches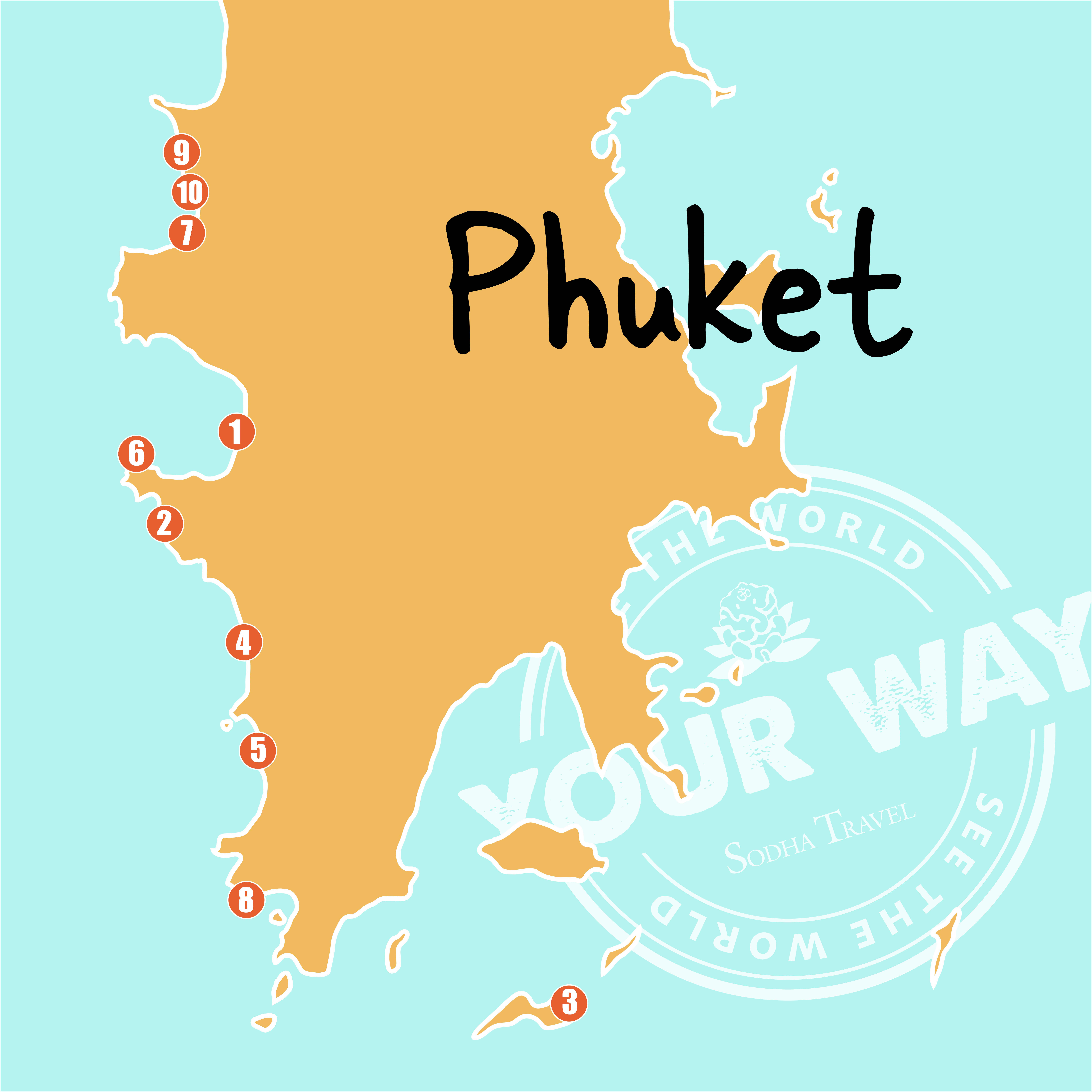 1. Patong Beach
Welcome to Patong Beach – a beach party that never ends! It's a melting pot of vibrant nightlife, adrenaline-filled water sports, and buzzing beach bars. During the day, stay active with jet skiing, parasailing, and banana boat riding. As the sun sets, get lost in the neon haze of Bangla Road, filled with rhythmic music and lively Thai nightclubs. Patong is Phuket's longest beach, ensuring plenty of sandy real estate for your beach blanket.
2. Freedom Beach
Freedom Beach is a haven away from the crowds, tucked away on Phuket's southwestern coast. The secluded beauty lures you in with its pristine sands, crystal-clear turquoise waters, and tranquility. Reaching this hidden gem involves a bit of an adventure, either by boat or a hiking trail, adding to its untouched allure. If you're lucky, you might even have this paradise all to yourself!
3. Banana Beach
For a taste of local charm, say hello to Banana Beach on the west coast of Phuket. With its clear waters, lush greenery, and scenic rocky outcrop, this beach is a photographer's dream. Try kayaking, paddle boarding, or snorkeling to discover the underwater world or enjoy a fresh Thai coconut on the sandy shores.
4. Karon Beach
Calling all beach connoisseurs! Karon Beach, on Phuket's picturesque west coast, is a tourist's delight. You can expect a more relaxed vibe compared to Patong but with an equally appealing beach culture. Sample some delicious cuisines at the many beachfront restaurants, stay active with beach sports, or watch a stellar sunset.
5. Kata Beach
The next stop is Kata Beach, a family hotspot divided into Kata Noi and Kata Yai. If you're a shutterbug, you'll love the perfect sunset setting with the small Koh Pu Island as a backdrop. Katathani Phuket Beach Resort at Kata Noi caters to luxury seekers, while Kata Yai is ideal for carefree frolicking and swimming.
6. Paradise Beach
Welcome to Paradise Beach, aptly named for its pure, unadulterated beauty. Surrounded by lush palm trees, with white sands meeting clear, turquoise waters, it's considered one of the prettiest beaches in Phuket. As the sun dips into the sea, bask in the wonder of a stunning Phuket sunset. If you're lucky, you might even catch the shoreline illuminated by bioluminescent plankton, a spectacle straight out of a fantasy novel.
7. Kamala Beach
Craving a peaceful respite? Look no further than Kamala Beach. The calm waters make this an ideal swimming beach for adults and children. Picture this: You're nestled on a beach chair under swaying palm trees. Nearby streets bustle with eclectic shops and funky cafes, creating a fusion of relaxation and entertainment.
8. Nai Harn Beach
Nai Harn Beach is your personal escape button. This serene paradise on Phuket's southern tip is perfect for families or anyone seeking a tranquil escape. Snorkel, kayak, or simply bask in serenity. Check out the natural freshwater lagoon, a hidden haven for wildlife.
9. Surin Beach
Surin Beach, perched on Phuket's west coast, is a charming blend of stunning beauty and relaxed vibes. Known as Millionaires' Row, this beach attracts the elite with its luxurious resorts lining the shore. A trip to nearby Laem Singh's viewpoint offers breathtaking views of the coastline and surrounding islands. The quaint Surin Plaza, teeming with local handicrafts, makes for a delightful stroll. In the evening, unwind at the tranquil bars and beach clubs for a taste of Phuket's more subdued nightlife.
10. Laem Singh Beach
Laem Singh Beach is a "secret" beach nestled between Kamala and Surin. Surrounded by lush greenery, it's less crowded than its counterparts, providing a unique sense of exclusivity. The more adventuresome can access the beach along a rocky coastline from Surin Beach; otherwise, reserve a local longtail boat from Kamala, Surin, or Bang Tao beaches.
Krabi Beaches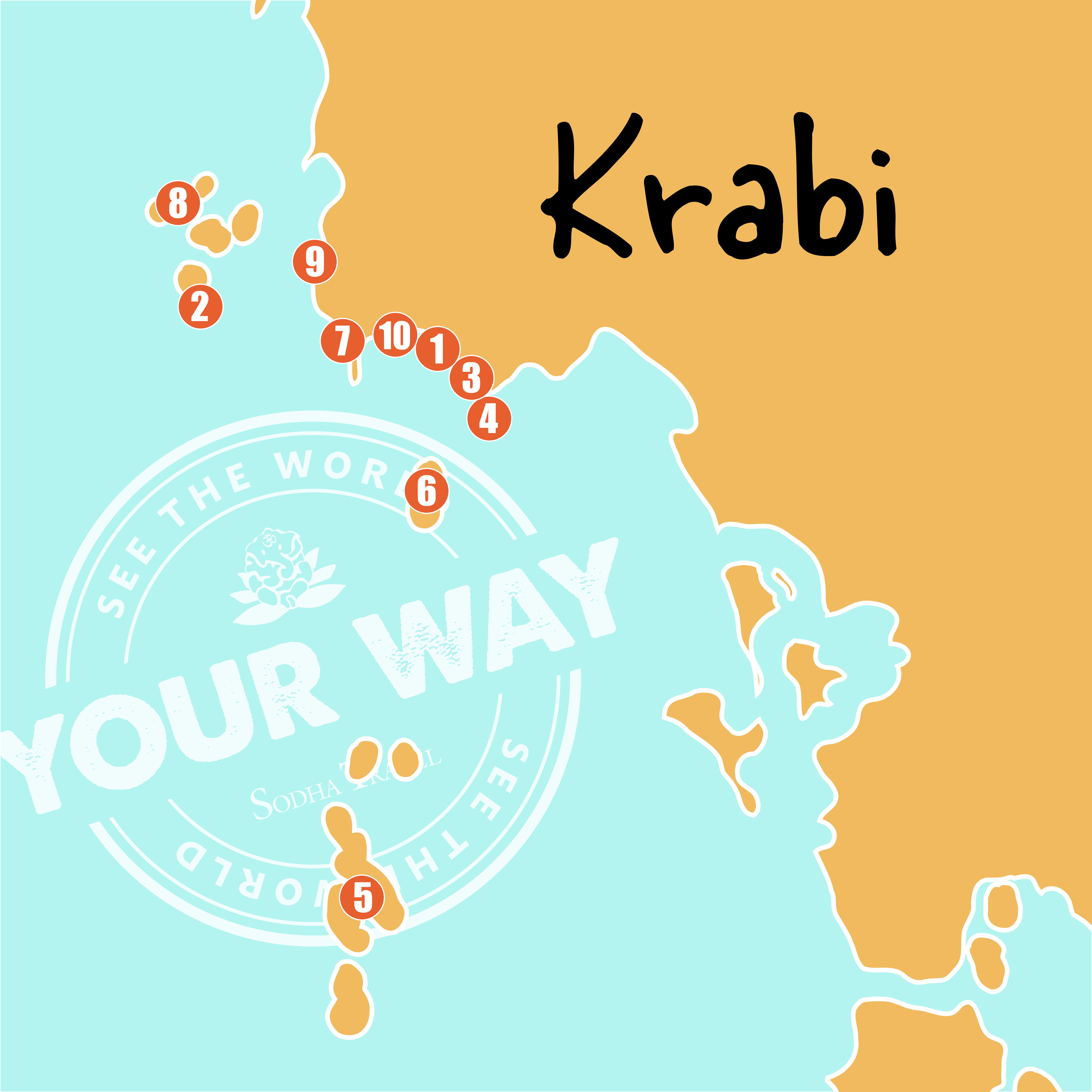 1. Railay Beach
Picture this: you're nestled between towering limestone cliffs, the golden sand beneath you, the azure sea before you, and a jaw-dropping sunset painting the sky above. Welcome to Railay Beach, a paradise divided into three sections, each with its own unique charm. If you're an adrenaline junkie, you'll love the rock-climbing opportunities on Railay Beach East; if tranquility is your aim, Phra Nang Cave Beach features a shrine tucked away in a cave adorned with glittering stalactites. Access Railay by longtail boat from Ao Nang beach or Ao Nam Mao.
2. Hong Island Beach
Imagine being marooned on a tropical island where your only companions are hundreds of vibrant fish darting through the crystal-clear waters. Here, the turquoise sea meets velvety white sand, creating a tropical paradise that is postcard perfect. The latest attraction on the island is a climb up 400+ steps to a spectacular 360-degree viewpoint. Note: Hong Island is a nature reserve with no accommodations; you can reserve boat tours from Krabi.
3. Ao Nang Beach
The beauty of Ao Nang Beach is as vast as its size. Spanning a large bay and surrounded by 83 small islands, Ao Nang is a collection of picturesque beaches. It is a non-motorized water sport zone, so catch a long tail boat to explore the nearby islands. You will also find idyllic locations only accessible by foot, like Hat Tham Phra Nang and Hat Nam Mao.
4. Phranang Cave Beach
Phranang Cave Beach is where adventure meets relaxation. Here, you can spend your morning swimming and kayaking in clear waters and your afternoon sunbathing or playing beach volleyball. For thrill-seekers, the beach boasts some of the best limestone walls for climbing in the region.
5. Ton Sai Beach
Accessible only by boat, this small beach boasts a laid-back vibe perfect for backpackers, climbers, and wanderers. Swim in the crystal-clear waters or explore the world-class rock climbing opportunities.
6. Koh Poda Beach
Koh Poda is a seafarer's dream. This unique island, shaped like a sailboat, is ideal for snorkeling with colorful coral reefs beneath the waves. You can reach this dreamy location by renting a Hua Tong boat from Ao Nang.
7. Klong Muang Beach
Step into serenity at Klong Muang Beach. With a quieter vibe, this tranquil beach is devoid of loud bars and bustling crowds. From national-style cafes to comfortable sun loungers, Klong Muang Beach lets you soak in the sun with less noise and commercialization.
8. Ko Lao Lading and Ko Phak Bia
Dive into the pristine waters of Ko Lao Lading and Ko Phak Bia, part of Than Bok Khorani National Park. Whether you're getting your Instagram-worthy shots on the curved beach of Ko Lao Lading or crossing the sandbar at Ko Phak Bia, these two islands offer picturesque views, clear water for swimming, and stunning rock cliffs as the perfect backdrop.
9. TubKaek Beach
TubKaek Beach is a secluded spot straight out of a fairy tale. With powdery white sand and shallow waters, this beach offers views of beautiful islands dotting the horizon. Hike through the lush rainforests of Than Bok Khorani National Park or unwind at one of the world-class resorts lining the beach. TubKaek Beach is an ethereal beauty waiting to be explored.
10. Noppharat Thara Beach
As part of the marine national park, Noppharat Thara offers a serene setting with rows of casuarinas and coconut trees lining the sandy shores. The beach transforms during low tide, revealing a seashell-paved seashore.