Sri Lanka offers a diverse portfolio of luxury hotels, reflecting the country's unique landscapes and cultural heritage. From hill country retreats to distinctive bungalows, the accommodations make the most of their lush natural surroundings.
Let's explore our favorite luxury hotels in Sri Lanka, the Pearl of the Indian Ocean.
Columbo/Negombo
Notary's House
Notary's House is located just 45 minutes from the Colombo airport, making it an ideal welcome to Sri Lanka. The luxurious boutique hotel features six beautifully designed rooms with spacious balconies overlooking the lake, surrounded by lush gardens and a serene coconut grove. Spend your time exploring the grounds, relaxing in the private lounge spaces, and enjoying the lakeside setting. After a long flight or an enriching tour of Sri Lanka, Notary's House is the ideal place to rest and reflect.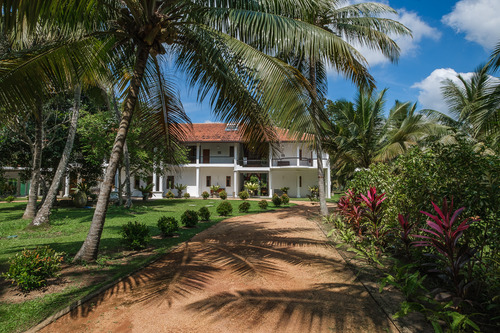 Wallawwa
Next on our list is Wallawwa, a serene oasis tucked into a quiet corner of Negombo's countryside. Despite being just 15 minutes away from Colombo airport, this luxurious hotel feels like a world away from the city's hustle and bustle. Wallawwa has a country house vibe, carved out of an atmospheric 18th-century manor house. There are 18 stunningly designed rooms with modern amenities and breathtaking garden views. Be sure to check out the spa and jungle pool.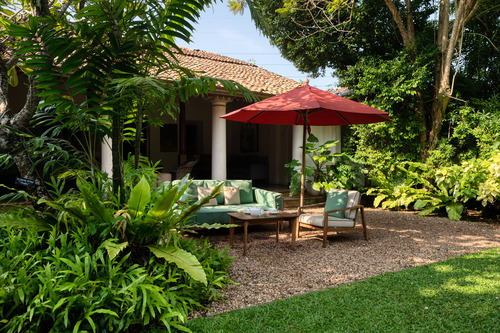 Sigiriya
Water Garden
Water Garden is a modern and sophisticated boutique hotel surrounded by lakes and streams. The property features a modern-day water harvesting design inspired by the 2,000-year-old water garden on Sigiriya Rock. With its breathtakingly beautiful surroundings, Water Garden offers a range of luxurious villas, each enveloped by swaths of greenery and flanked by winding waterways. Save time for an award-winning Balinese massage in the spa.
Jetwing Vil Uyana
Jetwing Vil Uyana blends rustic tradition and natural magnificence. The hotel is located in a private nature reserve with five distinct habitats, offering a purpose-built wetland in the shadow of an archaic fortress. The modern amenities in every room are complemented by a plunge pool and quiet library that provide communal coexistence with the environment. Plus, with the nearby UNESCO World Heritage Sites of Sigiriya and ancient kingdoms, you'll be in perfect proximity to some of the greatest sites in Sri Lanka.
Kandy
Elephant Stables
Elephant Stables is a colonial bungalow that was once the home of Sir Cudah Ratwatte, the patriarch of the island's leading aristocratic family. Located on a private road just 10 minutes from the historic city center, Elephant Stables is a haven of tranquility, sitting atop a hill with magnificent views of the mist-covered Knuckles Mountains in the far distance. Unlike many boutique hotels in Sri Lanka, Elephant Stables welcomes families with ample space and additional beds in the suites to accommodate kids of all ages comfortably.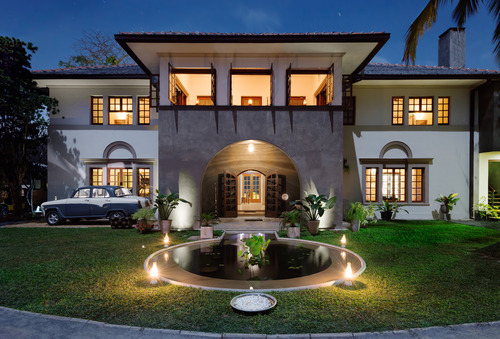 Kings Pavilion
Located in the Cultural Capital of Kandy is Kings Pavilion, a luxurious retreat to a bygone era. Wake up to soft sunlight filtering through full-length glass windows and breathe in the cool Kandyan breeze on your spacious balcony with panoramic views. Take a journey back in time to experience rustic luxury fit for royalty. Kings Pavilion exudes timeless elegance in the hills.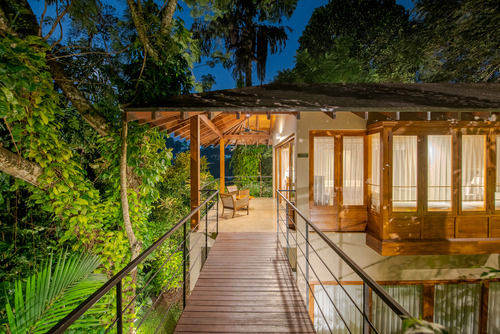 Nuwara Eliya
Ceylon Tea Trails
Ceylon Tea Trails is nestled in the heart of Sri Lanka's tea country. The luxurious retreat offers five meticulously restored bungalows that exude old-world charm and elegance. With breathtaking views of the surrounding tea plantations and mountains, guests can enjoy unparalleled luxury and comfort. Indulge in gourmet cuisine and butler service, take a plunge in the pool, or explore the lush tea fields and century-old factories. With naturalist-led hikes and the chance to spot resident leopards, a stay at Ceylon Tea Trails is a unique and unforgettable experience.
Ella
Nine Skies
Nine Skies is a stunning five-bedroom bungalow located on a tea-fringed hill near Ella. This elegant hotel offers beautiful hill country views and an exceptional guest experience, including butler service. The bungalow features period furnishings and custom-designed fittings, and the bedrooms open to the garden and surrounding estate. The location of Nine Skies is ideal for exploring the famous Demodera Loop and the Nine Arch Railway Bridge, as well as nearby Ella, a picturesque village known for its waterfalls emerald hills.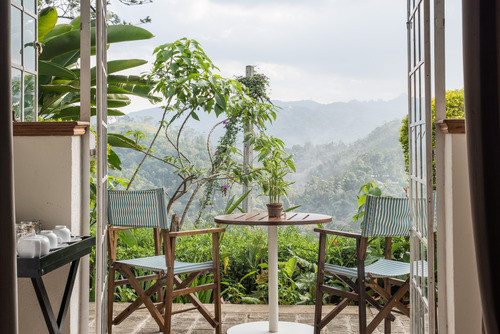 Yala
Uga Chena Huts
It's all about the location at Uga Chena Huts. The property borders the Indian Ocean, Yala National Park, and a natural watering hole. The resort's luxurious huts feature private pools and stunning views of the surrounding wilderness. Guests can enjoy a range of activities, from exploring the park's diverse biomes and wildlife to relaxing on the beach or by the natural watering hole. Reserve a personalized safari with one of the resident naturalists.
Wild Coast Tented Lodge
Adjacent to the breathtaking Yala National Park, the Wild Coast Tented Lodge offers a spectacular beachfront safari lodge experience. The resort's unique design, which mirrors the boulders scattered across the golden beach beyond, blends seamlessly into the surrounding landscape. Each cocoon suite offers panoramic jungle views, freestanding bathtubs, and cozy four-poster beds, making it the perfect place to unwind in wilderness. The lodge offers a range of curated experiences to help guests explore the essence of Sri Lanka, from fun and adventurous activities to holistic wellness offerings.
Anuradhapura
UGA Ulagalla
Nestled in a sprawling 58-acre garden, this boutique hotel is an oasis of elegance and charm. The 150-year-old mansion, rich in historical significance, will take you back in time. The resort features 25 stunning villas, each with a private pool, blending opulence with eco-friendliness. UGA Ulagalla is also conveniently located near the Anuradhapura archaeological sites and UNESCO World Heritage complex of Sigiriya.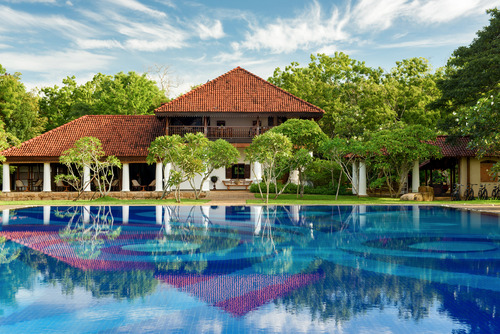 Beaches
Kumu Beach Balapitya
Kumu Beach Balapitya offers a serene and contemporary setting with 10 luxurious bedrooms, chic living and dining areas, and a beautiful infinity swimming pool surrounded by a spacious lawn. The hotel is situated footsteps away from the powdery Balapitiya beach, a palm-fringed shoreline that is close to nesting marine turtles, water sports in Bentota, boat trips along the Madu Ganga river, and mask museums in Ambalangoda. The bedrooms at Kumu Beach Balapitya offer custom-designed furnishings and stylish décor, allowing guests to fall asleep to the soothing sound of the sea. The hotel's personalized high-end service and enchanting ambiance make it the perfect place to relax, unwind, and eat well.
Cape Weligama
Cape Weligama is a luxurious resort situated along Sri Lanka's palm-fringed southern shores, where legendary explorers like Marco Polo and Ibn Battuta once traveled. The resort offers tropical gardens, pampering villas and suites that blend into the headland, and an array of amenities such as private pools, ocean terraces, a crescent-shaped infinity moon pool, and a sanctuary spa. Cape Weligama envelops guests in a world of culture, community, and cuisine, offering a gateway to southern Sri Lanka. Guests can enjoy coconut trees swaying in the salty breeze and the morning calling of peacocks.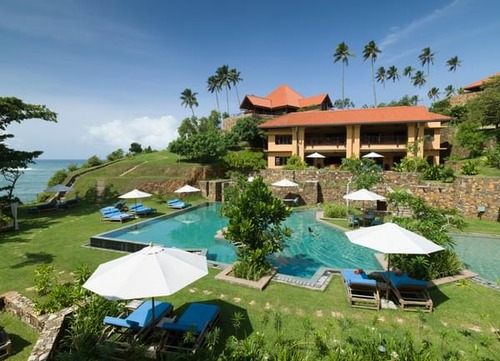 Interested in learning more about Sri Lanka? Check out Sodha Travel's sample Sri Lanka tours or download a free Sri Lanka Destination Guide.