For many, the idea of experiencing India by train is idyllic. Visions loom of sipping chai in a plush compartment while observing the countryside dotting the landscape. There is also something refreshingly charming when traveling by trains, perhaps because the tradition is an integral part of the local transportation. The rail system serves nearly 20 million people at 7,500 stations daily.
Though India rail journeys are not for everyone, there are considerable advancements being made. Earlier this summer, Indian Railways started a trial of solar powered trains. And now, new prototypes of Indian Railways coaches have been created for the first time in almost 70 years. Check out the photos below from our team at SITA: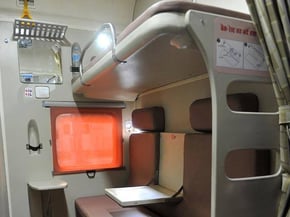 Contemporary meets comfort on the brightly hued seats, sleepers, and bathrooms.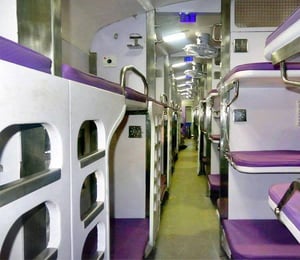 We are loving the new design, especially the added storage space for each berth. For more information on traveling by rail in India, including descriptions and photos of the classes, check out our post on Overnight Indian Trains.