Immersion and integration are key components to understanding and appreciating the heart of a culture. Luckily, travelers don't often have to venture far from popular destinations to comfortably merge the foreign and familiar. Last year I spotlighted Talabgaon Castle in Rajasthan, India. The 200-year-old fort is nestled in Dausa, only two hours from the "Pink City" of Jaipur. The car horns, bustling markets, and crowds are replaced by stunning sunsets, poolside cocktails, and village life. It is a rare opportunity for travelers to experience the rural lifestyle and authentically engage with the locals.

Jodie Snyder, a Sodha Traveler who joined me in India last September, recently shared her experience at Talabgaon with Bethany Living. She was immediately struck by the ambiance and hidden treasures. Here is the reprint of her story:

Upon approaching Talabgaon Castle, it seemed as though our group had stepped back in time. A glittering desert jewel, the property has lush green gardens, a beautiful welcoming courtyard, and well-appointed rooms. I immediately felt the special nature of Talabgaon. During my stay, which was the highlight of my trip to northern India, there were exceptional local experiences.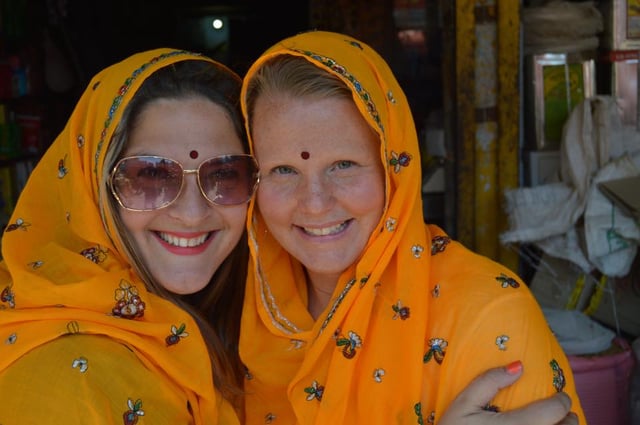 Upon arrival, we were treated to a camel ride into one of the local villages just as the sun was setting. We gathered with the children, visited the homes of several locals, and took many photos together. The next day the welcoming staff put together a Rajasthani cooking demonstration for us. This was no usual cooking demo - we had to work for our supper! Wearing traditional clothing, we were sent on a mission to purchase the ingredients for dinner. We turned many heads as we entered the small town, as they were not used to seeing foreigners. Smiles abounded and interacting with the kind locals was incredible. For our hard work, we were rewarded to a beautifully curated lunch at a farmhouse with the proprietors of Talabgaon Castle. Of course, we also had our cooking demo that evening and dined to the sounds of village musicians.
One of the most powerful moments came on the final evening at Talabgaon. The sun was setting low in the sky, painting the most beautiful shades of purple, pink, and red I had ever seen. A woman, busy with her work in the garden, stopped to admire the beauty before us. We gave each other a knowing smile. Beauty is beauty no matter where you are in the world.