As you may have read in the November issue of our Sodha Traveler newsletter, this month we are focusing on South Asian culinary delights. The following post is by guest blogger Nikhil Merchant, a food columnist and gourmet consultant based in Mumbai.
**
A proud nation indeed, India– the land of curries and dals, a melting pot of flavors which differ from the East to the West and the North to the South, I always had a close affinity to typical home cooked Indian food. Of course, being born and brought up in Mumbai, a cosmopolitan city, I was exposed to new age and differential cuisines which kept cropping up through my growing up years. But somehow or the other – there is no food like home cooked food. Even today, many cosmopolitan cities have what they call their 'specialties', Delhi has its spicy chaats and heavy butter laden curries; Mumbai is synonymous with its street foods ranging from Pani Puri's to Kathi Rolls; Gujarat with its Sweets and Indian Thali's leave people satiated; and Kolkata with its diverse sea food dishes (some of the best fisheries in the world) and flavors redolent with mustard and typical spices make up our country's cuisine amongst many others diversities. Each city has its own tale and you would be surprised with the way the dishes are twisted to capture the essence of that particular place.
I, being a food enthusiast and an avid documenter of my experiments in the kitchen, am in the constant need of marrying flavors of India with exotic ingredients from around the world. Yes, fusion food is a little difficult to fathom and I would not call myself an expert fusionist, but I love to combine arbid flavors to come up with some exciting variations to Indian dishes.
Here is a recipe I created by using a common ingredient used in everyday Indian cooking and a part of a common Indian person's diet – the Red Lentil. You would be surprised that the Middle Eastern countries take lentils very seriously too, and this recipe is a dish inspired by the lentil soup of the Middle East but localized to match the palates of our country. Try this simple recipe out with easy to locate ingredients, which I am sure your local grocery store would have in stock.
Lentil Soup with Purple Basil Infusion Oil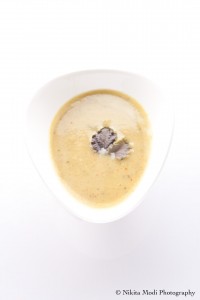 Ingredients
1 cup –Split, Dry Red Lentils (pre-soaked for half hour)
4 cups - Water
1 small Onion (finely chopped)
1 small Tomato (seeded & pureed)
1 lemon (juice)
1 tsp Brown Sugar
1 Vegetable Stock Cube
1 tablsp Garlic (grated)
1 tablsp Ginger (grated)
1 tsp Cumin
1 tsp Chili Flakes
1 tablsp Olive Oil
1 tsp Black Pepper (ground)
Salt to taste
Infusion Oil
½ cup Extra Virgin Olive Oil
8 leaves Purple Basil
1 tablsp Apple Cider Vinegar
Sea Salt to taste
For the infusion oil: muddle sea salt and purple basil lightly, top with Extra Virgin Olive Oil and whisk in the apple cider vinegar, leave to steep for at least 12 hours before use.
For the Lentil Soup: Heat up Olive Oil in a large pot (large enough to hold four cups of water), and add the ginger, garlic and onions. Stir fry until the onions are soft and add the lentils, four cups water, tomatoes, vegetable stock cube and bring to a boil. Simmer for about 30 minutes or till the lentil are cooked and the water has boiled down to about half its quantity. Add all the seasonings and turn down the heat to low. Continue to simmer for about 10 more minutes in the process crushing the lentils to thicken the soup. If you feel it's too thick add a little more water.
To serve: pour out the soup in a serving pot or individual bowl, drizzle a teaspoon of olive oil on top and a purple basil leaf and serve hot.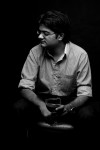 Nikhil Merchant is a food columnist and writes his own food & lifestyle blog – The Nonchalant Gourmand (www.nonchalantgourmand.com). He is also a food enthusiast and a Gourmet Consultant based in India (Mumbai) who loves to cook and experiment in the kitchen. Life inspires him to create dishes and he tends to reiterate the inspiration in the form of his signature dishes.