The Temple Trail is Sodha Travel's September Featured Tour! With over 31,000 temples, Tamil Nadu is considered the Land of Temples. Many believe these ancient structures are unmatched in their architectural brilliance. On our Temple Trail tour, spend 8 days in Chennai, Mahabalipuram, Thanjavur and Madurai. Also experience South India's classical music and dance circuit, including a Bharatanatyam dance performance.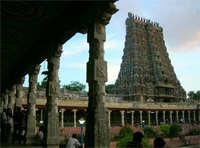 Here is a testimonial from Randi, a Sodha Traveler who experienced this tour in June:
Tamil Nadu is fascinating and a complete contrast to other regions! I especially enjoyed my time in Trichy. The Srirangam and Rock Fort temples were captivating, as were the people of the town. I was also surprised by the musical and artistic history of the cities we visited...The guides were informative and professional and took the time to share such a complex history.
Thank you, Randi! Remember, reserve this tour in the month of September and receive $100 off per person!