In May of 2005, while staying at the InterContinental in Goa, I was introduced to Forest Essentials bath and body products. It has since become my absolute favorite line of skin care and I wanted to share more about this company that has changed the course of beauty.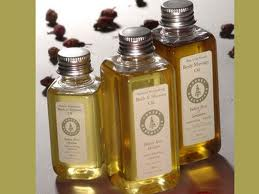 The Forest Essentials products were developed after years of research with Ayurvedic physicians. According to the Forest Essentials website, the company uses "age-old Ayurvedic formulations from scholars who practice an austere code and devotion to their incredible font of knowledge. They supply us with many of our herb ingredients, oil formulas, and Vedic treatments. This is then interspersed with the understanding of a modern biochemist's point of view to create, with our team, products that have their basis in India's oldest science but presented in an easy-to-use manner." Also, Forest Essentials own spring water is used in each product, with therapeutic properties that have been certified as being rich in mineral deposits.
A few of my favorite Forest Essentials products are the Mashobra Honey and Vanilla Bath and Shower Oil, Rose and Cardamom Butter Soap, Kashmiri Walnut Gel Facial Scrub, Jasmine Madurai Diffuser Oil, and Cane Sugar and Tamarind Body Polisher. Of course, this is just a condensed list - there are so many wonderful items. I also love how the products are not mass produced in industrial factories. Instead, the company employs local labor in the villages of Uttaranchal. Forest Essentials is available in many luxury hotels throughout India and also at select retail stores.