Gujarat is the 7th largest state in India and rich in cultural and historical heritage. Although it is a popular destination for business travelers (the state has the fastest growing economy in the country), it remains a hidden gem to many leisure tourists. Historically, Gujarat was known as the home of Mahatma Gandhi and the base of the Indian freedom struggle. It is currently the most industrialized state in India and offers wildlife, beaches, and numerous religious and historical sites. I have had the pleasure to visit Gujarat many times and it is a colorful region that reveals an authentic illustration of India's festive heritage. Here are a few fast facts:
Capital: Gandhinagar
Largest City: Ahmedabad
Primary Language: Gujarati
Attractions: Wildlife, Ancient ports, Monuments, Beaches, Business and Technology
Historical Buzz: Lothal, one of the world's first ports, is located in Gujarat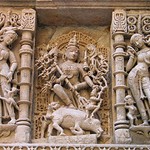 On our Festive Gujarat tour, spend 13 days exploring Ahmedabad, a base camp during the Indian freedom struggle; Dasada, with magnificent wildlife viewing opportunities and vibrant villages; Bhuj, known for handicrafts and textiles; Gondal, a historic Rajput township; and Diu, a coastal paradise with beautiful beaches on the Arabian Sea. Reserve this package in the month of February and receive $100 off per person or $300 off per couple!