UPDATE June 23, 2017: A more recent cleaning and restoration schedule can be found here.
**
A heads up to travelers visiting Agra: cleaning and restoration of the Taj Mahal is underway. It is currently focused on the minarets toward the river side. Scaffolding is present during the refurbishment.
The inner walls of the main mausoleum are also being restored. However, as it is being repaired in small patches, it is not affecting the movement of visitors.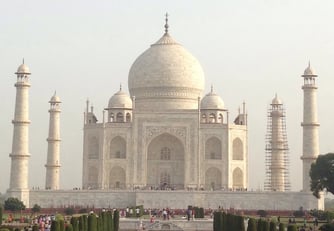 Unfortunately, the scaffolding is visible while taking pictures of the Taj Mahal. Starting in mid-April there will be more improvements on the outer walls, all four faces, and the dome of the main mausoleum.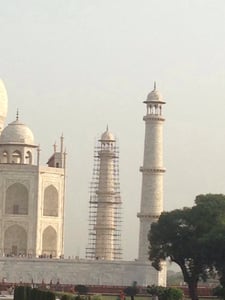 Built in the 17th century by the Mughal Emperor Shah Jehan for his beloved wife Mumtaz Mahal, the Taj Mahal took over 22 years and 20,000 men to build. As a wonder of the world, the monument presently has over 700,000 foreign visitors and 54 million domestic tourists annually.
Please contact the Sodha Travel team for more information.