Where to stay in India? Depending on your travel style, India can be a backpacker's paradise or a discerning destination. There is an incredibly diverse portfolio of accommodations, including ashrams, hostels, destination spas, boutique hotels, houseboats, palaces, guest houses, and grand forts. Let's explore where YOU can rest your head in India.
International Brands
International chains offer the comfort and amenities of home but also create a barrier between you and the destination. Some travelers squirm at the thought of staying somewhere "just like home" while others appreciate the westernized facilities after spending the day immersed in India's cultural cacophony.
There are several international hotel brands in India, including Marriott, Hilton, Holiday Inn, and Hyatt.
Even if you are opposed to the thought of a hotel where you could really be anywhere, there can be benefits. Those concerned about Delhi-belly or other gastro conditions will find the food is generally prepared to accommodate foreign (aka sensitive) tummies. Also, chain hotels have back-up generators - a welcome amenity with India's frequent power outages.
Local Chains
Local Indian chain hotels range from budget to luxury. Although established in India, these properties can be owned and operated by a larger conglomerate. Certain chains, like Oyo and Treebo, cater to domestic tourists (or Indians traveling throughout the country.) Others, like Lemon Tree, ITC, CGH Earth, Taj Group, and Oberoi Group, are popular with foreigners.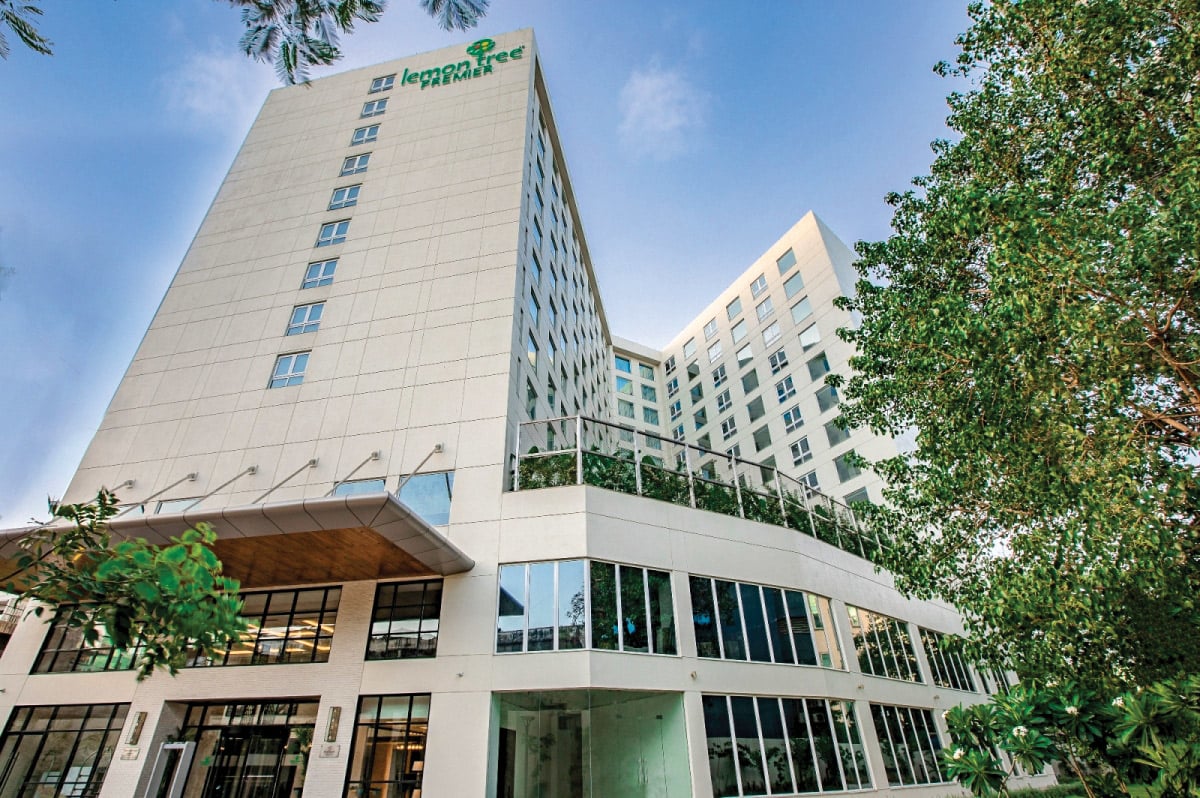 Boutique and Concept Hotels
Boutique and concept hotels are smaller and cater to a specific theme or interest. You may find yourself at a 300-year-old colonial bungalow, an eco-friendly beachside cottage, or an urban loft that doubles as an art gallery. There are generally three characteristics of a boutique hotel: the size is smaller with 10-100 rooms, the service is very intimate and personalized, and the style is uniquely Indian with loads of local flavor.
The staff at boutique and concept hotels are also known for their destination knowledge and can recommend more immersive experiences instead of big bus tours - a local shop owner instead of a handicraft emporium, for example. Also, the menu will reflect the property's unique location and specialize in local favorites.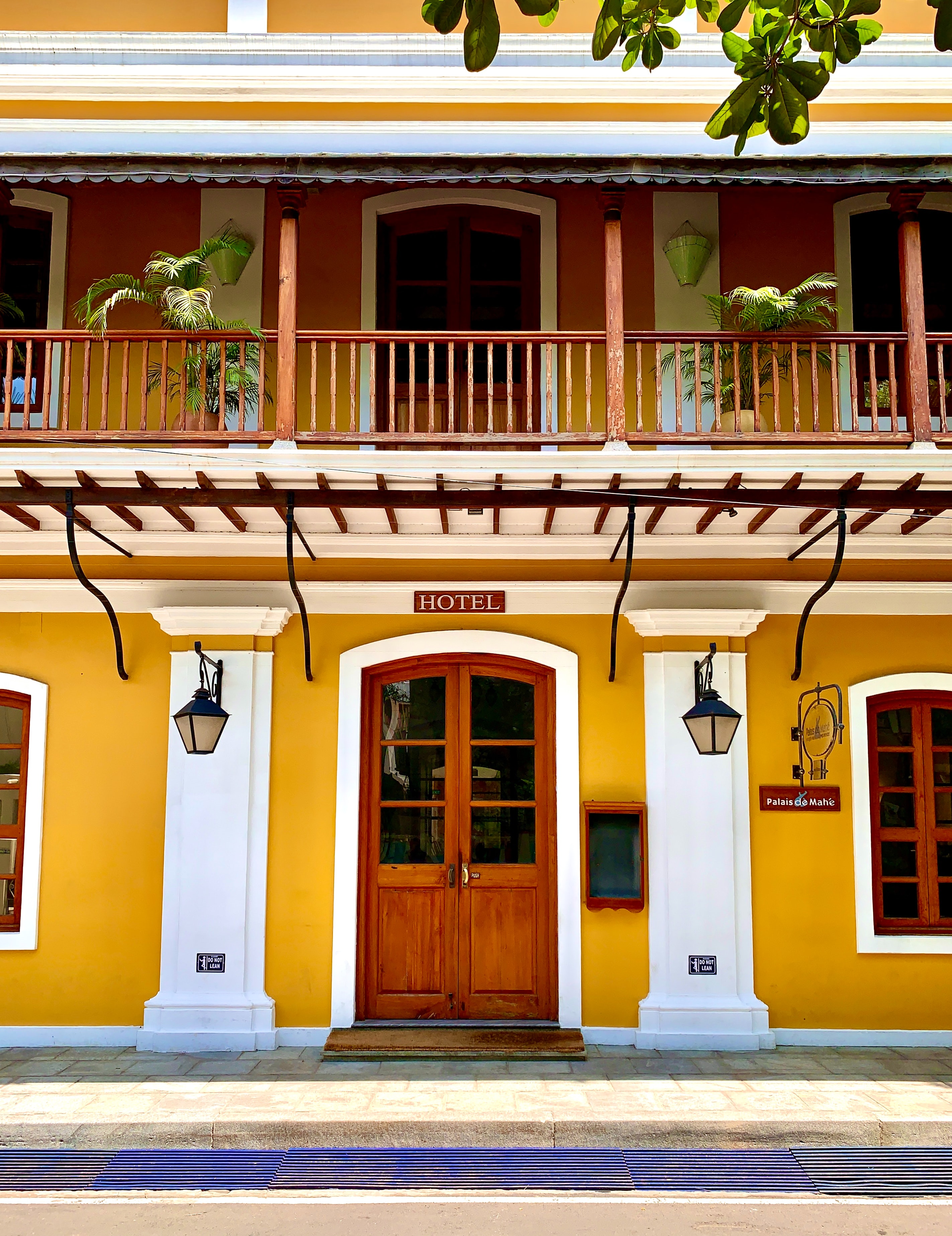 Hostels
Not long ago, hip hostels in safe neighborhoods were rare in India. Fortunately that has changed and you can now find cool spaces to connect with other travelers. What's common? Shared rooms, communal kitchens and lounges, free Wifi, laundry facilities, lockers, hot water, and yes - A/C! There are also properties that offer female-only dorm rooms, private rooms, and attached bathrooms.
Hostels cater to backpackers and the younger crowd. Popular brands include Hoztel, Zostel, GoStops!, The Hostel Crowd, and Moustache Hostel. There are also many independently-owned hostels outside these brands, but always check the location and neighborhood before reserving.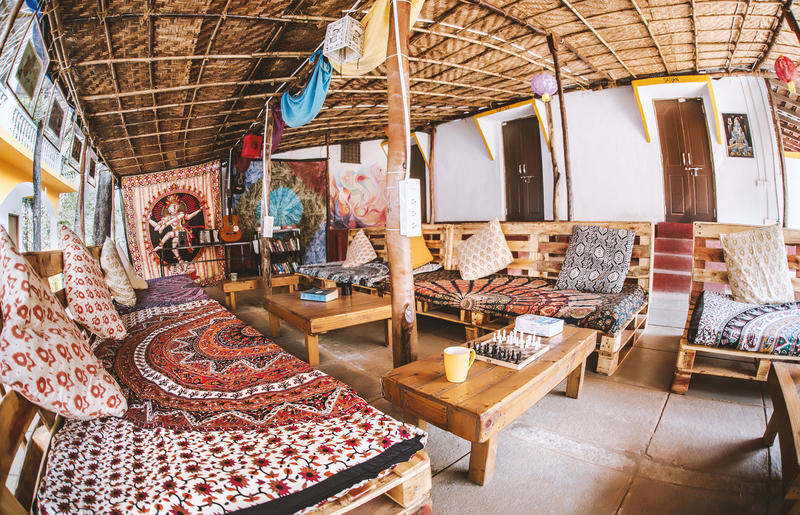 Ashrams
Because India is a popular destination for spiritual seekers, ashrams abound. You will usually find the simplified lodging in pilgrimage and religious destinations, though they may also be located near a Guru's residence or at an energy vortex. In North India, ashrams are common in Varanasi, Bodh Gaya, Haridwar, Rishikesh, and Dharamshala. In South India, they are scattered across Kerala, Tamil Nadu, and Pune with others clustered in religious destinations. The International Society of Krishna Consciousness, or ISKCON, and the Ramakrishna Mission have centers all over India.
Many ashrams have a minimum night stay and require a form of service or long-term volunteer commitment. Also, you will likely be subjected to the ashram rules and activities, including meal times, spiritual practice/meditation, and education. Ashrams can be free or low-cost. Some are with shared bathrooms and without A/C. Also, meals are almost always strictly vegetarian and no alcohol is allowed.
Guest House/Homestay
The thought of a homestay or guest house in India can ignite romantic images of cultural exchange. A comfortable room in a private residence, adorned with traditional fabrics and décor, can offer a warm contrast to a stark hotel room. Instead of room service, you can enjoy a homemade chai and paratha at the breakfast table while engaged in dynamic conversation with the owner.
A guest house or home stay is where a tourist rents a room from a local family. The idea is to offer a clean and affordable place to stay, usually with the intention of learning more about the community, language, and traditions. In India, the homeowner and his/her family reside at the property and rent out a minimum of one room and maximum of six rooms, or 12 beds. Remember, a "home" in India can be a detached structure or an apartment.
Licensed homestays and guest houses require all rooms to be clean, airy, and pest free, with outside window/ventilation and a private attached bathroom. The property is also required to have 24-hour hot and cold running water with proper sewage connection and a smoke-free, hygienic, and well-maintained kitchen. Optional amenities include a security guard, internet connection, luggage assistance, telephone service, washing machine, and heating/cooling in public spaces.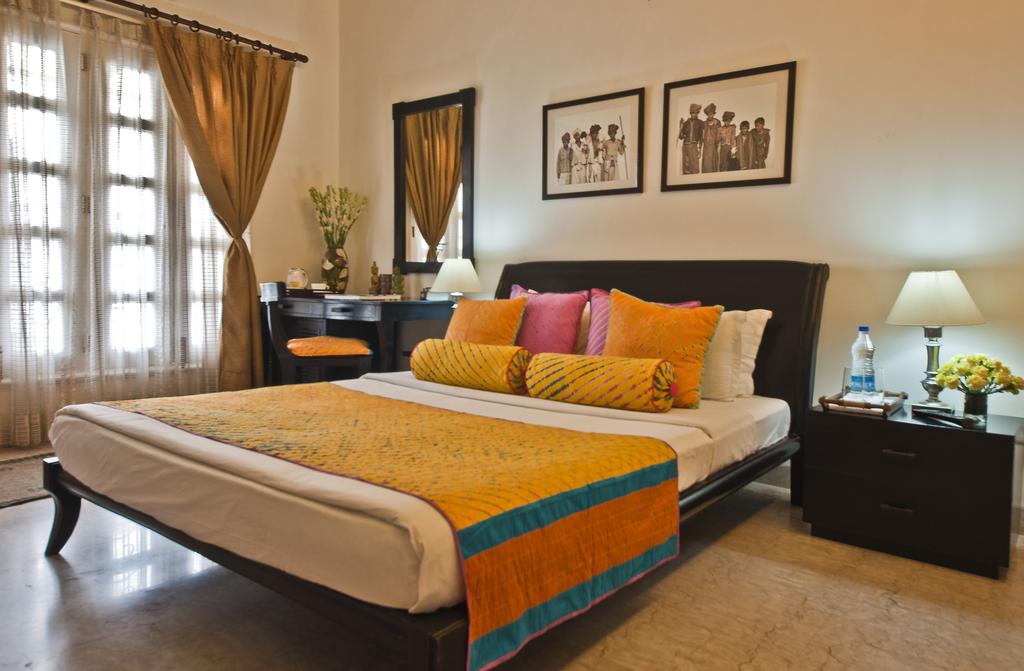 Havelis/Forts/Palaces/Heritage Hotels
We love havelis! A haveli is a grand house or mansion with architectural or historical significance that has been converted to accommodations. Often the proprietors are direct descendants of dignitaries, royals, and influential families, creating ample opportunities for historical narratives and lively storytelling. Haveli's can range from economical (3*) to luxury (5*) and almost always feature a central courtyard.
Forts and palaces are exactly as they sound - grand, historic sites that have been fully or partially converted to unique stays. Many have been awarded the top hotels in the world, including Taj Lake Palace in Udaipur and Umaid Bhawan Palace in Jodhpur. These unique stays will be a higher price point but also a fun splurge. How often do you have the opportunity to live like royalty?
If a property was built before 1950, it is designated a Heritage Hotel. This can include havelis, forts, palaces, hunting lodges, or any other building with architectural detailing that is reminiscent of the area. To stay in a heritage hotel is to step back in time and experience the traditions of India's colorful past.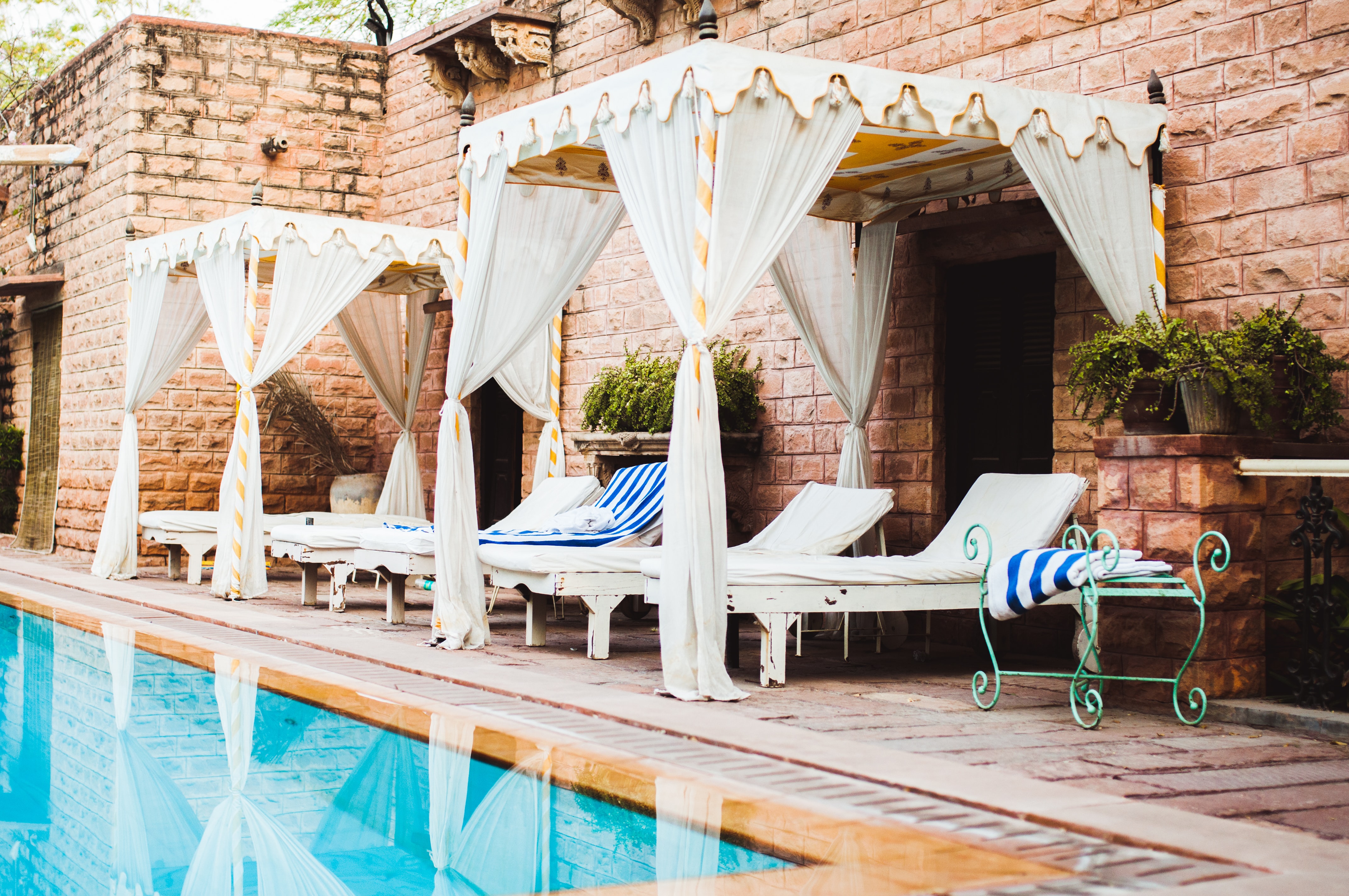 Yoga Retreats, Destination Spas, and Wellness Centers
Because Yoga and Ayurveda were developed in India, there are thousands of yoga retreats, destination spas, and wellness centers. Ayurveda focuses on balancing the emotional, mental, physical, and spiritual elements of life to create ultimate wellness. The retreat center may require a minimum-night stay (3, 7, 10, and 14 are the most common) with a medical consultation on the first day. Based on your health and goals, the doctor will personalize a treatment plan that includes a Sattvic diet, therapeutic treatments, and yoga/meditation sessions.
Most destination spas are located in South India - especially Kerala - but you will find some scattered in the north - Ananda in the Himalayas, outside Rishikesh, is one of the top ten spas in the world. I also love Sattva in Rishikesh and the Oberoi Sukhvilas in Chandigarh.
Rishikesh, in the foothills of the Himalayas, is often considered the birthplace of Yoga. With that designation, it's no surprise that the unassuming religious town is overflowing with multi-day yoga retreats.
Goa is also a haven for wellness centers, yoga retreats, and destination spas. From beachside to hillside, you can easily find a center aligned with your budget and intention.
Houseboats and River Cruises
Another enchanting option to rest your head is on water. River cruises have become more popular in recent years, with vessels gently sailing down the holy Ganges. Many of these feature the comforts of a 5-star hotel, including floor-to-ceiling glass doors, hand painted murals, and spa-quality bath products.
Houseboats are centered in two areas: A kettuvallam, or traditional houseboat in Kerala, and a Shikara on Dal Lake in Srinagar. There are also luxury houseboats, like the Oberoi Vrinda, offering a touch of elegance to the traditional elements.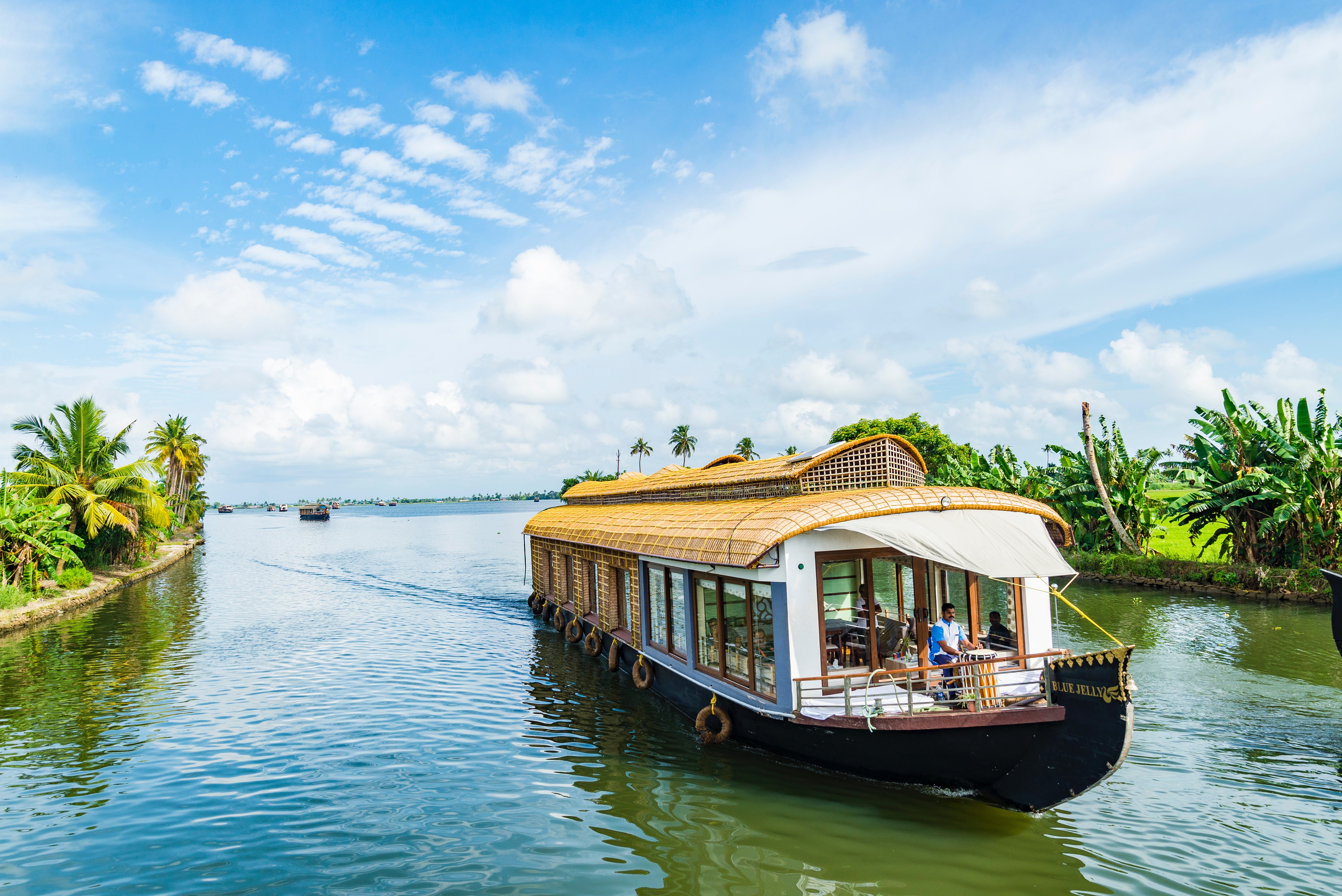 Vacation Rentals
The past decade has seen an upward trend in travelers reserving vacation homes across India. (Also, during a pandemic, many travelers are no longer comfortable staying in crowded hotels.) It's an affordable way to stay local for longer stays and integrate with the communities. Remember, read reviews thoroughly and always check the neighborhood on Google Maps.
Check out sites like Home to Go, Airbnb, and VRBO. You can also check out Signature Stays from Sodha Travel. The exclusive home rentals include a spacious, sanitized vehicle with a private driver; a curated itinerary with a private guide; and a custom menu prepared by a private chef.
Where do you like to stay in India? Do you have any favorite hotels? Share your experiences in the comments!