Located just fours from Bangkok is the picturesque Khao Laem National Park. It is a part of the Western Forest Complex, a system of protected wilderness in the Dawna-Tenasserim Hills area of western Thailand. Not on the popular tourist circuit, the national park offers travelers the unique opportunity to enjoy a houseboat in Khao Laem Lake. Often termed raft houses, the communal lodging docks at a new location each night. Guests spend their days lounging in a hammock, kayaking, interacting with locals, and participating in scheduled activities like hiking and visits to hillside villages.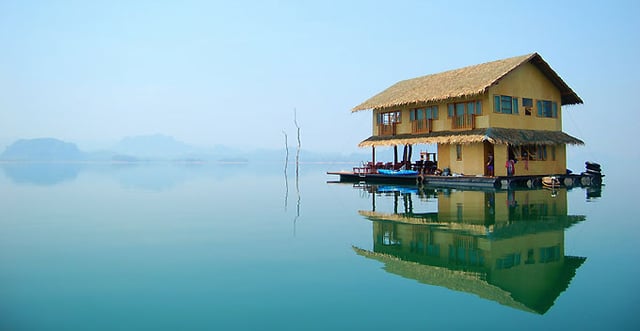 The houseboats vary in size and generally accommodate between 12-24 guests. There are single, double, and dorm rooms available, all with french balconies. Bathrooms with showers are shared. Three daily meals are cooked fresh on board by the staff, and the floating home features an expansive sun deck, lounge area, and bar.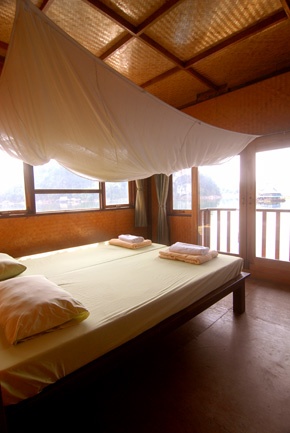 Daily excursions around Khao Laem Lake are facilitated by smaller boats with a local guide. Guests can visit Coconut Island where the Mon people still live the traditional life of their ancestors, cultivating coconut and cocoa plants. A long-tail boat is also available to take travelers to a village of the Karen, one of the many Thai hill tribes. From here, guests continue into the jungles on the back of an elephant. The more adventerous can search for treasures in nearby Lijia cave. It is believed that Japanese soldiers left valuables, including gold, in the area when they built the Death Railway during World War II.
Contact a Sodha Travel Destination Specialist to learn more about the multi-day houseboat programs available on Khao Laem Lake.
Resources: Sodha Travel Custom Thailand Tours