Recently, Trip Advisor posted the Traveler's Choice Awards Top 25 Destinations in India. I particularly love reviewing an award list when selected by everyday travelers. Admittedly, I expected to see a few of the destinations, including #2 Varanasi, #9 Jaipur, #12 Udaipur, and #16 Goa. However, I was pleasantly surprised to see #3 Manali, #11 Hampi, #15 Shimla, and #25 Kodaikanal.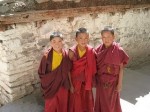 The #1 destination was Leh, the capital of Ladakh. And so it seems this hidden treasure is now becoming a popular haven for travelers! Back in 2009, I wrote about Leh's untouched splendor in Destination: Ladakh. Over the past couple years, we have seen quite a surge in the interest to experience this remote region in Jammu and Kashmir.
I was also happy to see Darjeeling awarded as the #4 destination. Many travelers are quite familiar with the Darjeeling tea varieties but seldom include a visit to this Himalayan region that blends Indian, Tibetan, Nepali, and Bengali traditions. I have discussed the attractions of Darjeeling in many of our posts, and our Eastern Odyssey tour is featured in our most recent video, An Indian Experience.
One year from now, I will be interested to review the 2012 awarded destinations and compare the trends of travelers worldwide!