UDAN ('Ude Desh Ka Aam Naagrik') is a unique Indian airline system developed to stimulate regional connectivity through a market based mechanism. The scheme was launched earlier this year and Prime Minister Narendra Modi flagged off the first flight on April 27th from Shimla to New Delhi.
According to the Civil Aviation Ministry of India, UDAN will be helpful to common citizens who travel frequently for commercial purposes. It aims to develop the regional aviation market and make flying affordable by providing connectivity to the un-served and under-served airports of the country through revival of existing airstrips and airports.
The scheme is applicable on flights which cover a distance of 200-800 KM. It reserves a minimum number of seats on flights and also caps the fare for shorter distance flights. It has a unique market-based model to develop regional connectivity. The government aims to cap the fares at INR 2500 per seat per hour, which means that the airfare for a 1-hour journey of approximately 500 km will be capped at INR 2500.
After a successful bidding process, five airlines were awarded a total of 128 routes connecting 70 airports: Alliance Air (a subsidiary of Air India), SpiceJet, Turbo Megha, Air Odisha, and Air Deccan. Routes include:
Delhi – Shimla
Delhi – Agra
Delhi – Pathankot
Delhi – Kullu
Jaipur – Agra
Jaipur – Jaisalmer
Puducherry – Hyderabad
Puducherry – Chennai
Ahmedabad – Diu
Ahmedabad – Dwarka
Ahmedabad – Jamnagar
Mumbai – Nashik
Mumbai – Porbandar
Mumbai – Kandla
The following map highlights the proposed reach of the UDAN scheme. Photo Credit: PIB India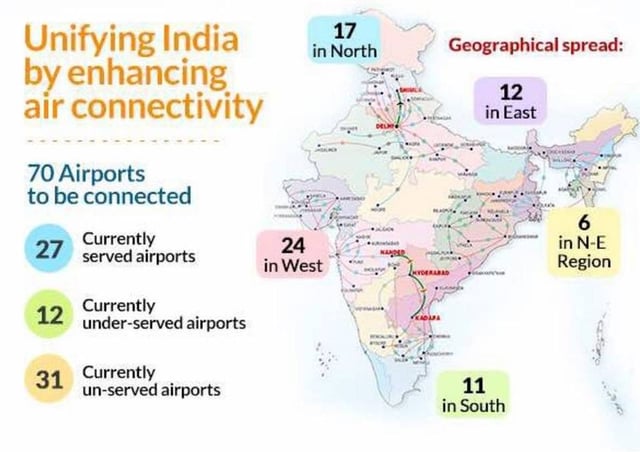 So what does this mean for travelers? Fortunately, UDAN is available for foreigners as well as Indian Nationals. However, with limited seats, it is very difficult to obtain the discounted fares. Additionally, not all projected airports are operational and, with limited flights, any cancellation may disrupt a touring itinerary. Many of the airlines also utilize older aircraft, resulting in maintenance delays. For now, Sodha Travel is cautiously optimistic about the enhanced air connectivity and will continue to monitor the developments.