Congratulations to our team at Asian Trails for being named "Thailand's Leading Travel Company - 2015" at the TTG Travel Awards! Yes, Sodha Travel's team was awarded Thailand's Leading Travel Company! Regarded as one of the most prestigious award programs in the Asian travel industry, the TTG Travel Awards serves to acknowledge, reward, and celebrate excellence across all sectors of the regional travel and tourism industry. Great job, team!
Here are a few recent reviews from Sodha Travelers on their Thailand experience:
I just want to thank you again...Our honeymoon was absolutely perfect ! It was even better than I had imagined. Everything was seamless, not one thing went wrong. I was blown away by the hotels, the guides, and the excursions. I just really want to express how happy I was with the trip...Thank you again for making our honeymoon in Thailand so amazing and something we will remember forever. - Felicia D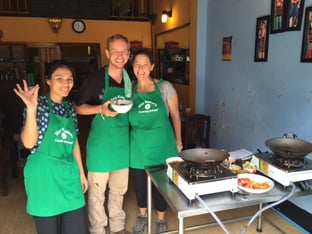 Well, we must say that you planned an extraordinary journey for us in Thailand. I say "journey" because it truly was an exploration of the senses and just not a trip or vacation. There are endless agencies offering tours of Thailand but I can't imagine anything better than Sodha Travel. First, your responsiveness far exceeded any other company during the planning stages. Second, you offered a custom program that really included my trip preferences and special interests. We received several proposals but Sodha Travel's was the only one that felt personalized and unique. Your Thailand team was wonderful and kept us comfortable and engaged with the locals. The entire experience was magnificent. We already look forward to our next journey with your company. A million thanks for the memories. - Roberta Thompson
Karyn and Flex, Sodha Travelers from Seattle, fell so in love with their Thailand experience that they made and shared this video from Phuket:
Sodha Travel -- and Sodha Travelers -- love Thailand! Start planning your custom Thailand trip today!