Sodha Travel is proud to partner with several adoption organizations and coordinate travel services for families adopting children from India. Our team arranges the complex (and often last minute!) travel logistics so the families can focus on the most important thing - each other.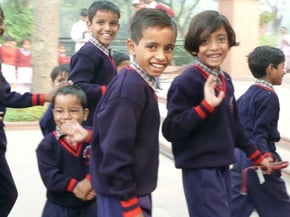 Our friends over at Children's Home Society of Minnesota recently shared an informative post that debunks five common myths of India adoption. Common misunderstandings and outdated information often lead prospective families to eliminate India as an international adoption contender. Both Indian and non-Indian families can adopt and the average age is under five years old. Furthermore, most families do not need to spend a considerable amount of time in India before adoption.
Check out the article and be sure to contact Children's Home Society (CH) and Lutheran Social Service of Minnesota (LSS). Both organizations have a long history that began with the mission of providing care and finding families for orphaned children in 1865 (LSS) and 1889 (CH). If and when the time comes to travel abroad for the adoption process, Sodha Travel looks forward to arranging your services!