For personal and professional endeavors, I have spent considerable time in Delhi. In addition to the city's diverse historical and cultural identity, little compares to Delhi's shopping scene. From luxury brands in DLF Emporio to handicrafts and antiques in Sundar Nagar, India's capital is overflowing with markets, malls, and bazaars. Many travelers visit Dilli Haat, an open-air market that features both permanent and transitional vendors. The space, designed to resemble a traditional village market, was created to showcase products from across India. Another popular spot is Paharganj, known locally as the Hippie Market. Located near the New Delhi Railway Station, Paharganj offers bargain-friendly bags, shoes, clothes, textiles, incense, jewelry, and more.
Although Dilli Haat and Paharganj are vibrant, bustling markets, there are others I prefer. Here are my five favorite Delhi shopping markets, in no particular order:
Janpath
Janpath is a marketplace that houses both government-approved shops and open-air stalls. Plan to visit soon after arriving in Delhi to grab a few local and traditional clothing items. Of course, there are hundreds of options: carpets, shoes, clothing, jewelry, handicrafts, textiles, accessories, paintings, and furniture. Be sure to have Rupees available. Most government-regulated shops accept credit cards, though cash is preferred, and the bazaar is cash only. Also, don't miss a cold coffee at De Paul's, famously served in a glass bottle with a straw.
Kamla Nagar
Kamla Nagar is one of the more traditional markets in Delhi. I have visited several times and rarely encounter other foreigners. Located in Old Delhi, Kamla Nagar is where the locals shop for everyday goods including bangles, stationery, clothes, and household items. It is also a prime area for mehendi (henna) and the artists sit on stools with picture books of designs.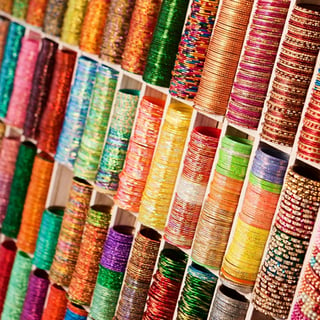 Khan Market
Khan Market is consistently ranked one of the most expensive commercial real estate locations in the world. But don't let this deter you from visiting the collection of shops and restaurants. There are several moderately priced stores, like Fabindia (garments) and Amrapali (jewelry). My personal favorite is Forest Essentials, offering ayurvedic bath and body products. Stop for lunch at Big Chill Cafe, at Italian jaunt very popular with the locals. For easy accessibility and to avoid Delhi traffic, take the metro. It is air-conditioned and was the first metro in the world to be certified for environmentally friendly construction.
Chandni Chowk
Established by Mughal Emporor Shah Jahan in 1650 AD, Chandni Chowk is considered one of the oldest and busiest street markets in Old Delhi (Shajahanabad). The street is positioned between two important historical sites: the Red Fort (Lal Qila) and Fatehpur Masjid, a 17th century mosque. Jama Masjid, the largest mosque in India, is also located within walking distance.
Chandni Chowk hosts an impressive mix of shops that specialize in silk, silver, crafts, spices, and leather goods. There are renowned restaurants, food stands, and sweet shops, including the original Haldiram's, Meghraj and Sons, Bikaner Sweet Shop, and Ghantewala Halwai. Nestled around Chandni Chowk are historic private residences and a labyrinth of small streets and neighborhoods. As a traveler, it is easy to become lost in the wondrous flurry of activity.
Please Note: Chandni Chowk has been termed The Most Crowded Street in Asia. The side streets are exceptionally narrow and personal space is rare. If you prefer less congestion, consider viewing the hustle and bustle from a distance or visiting an alternate marketplace.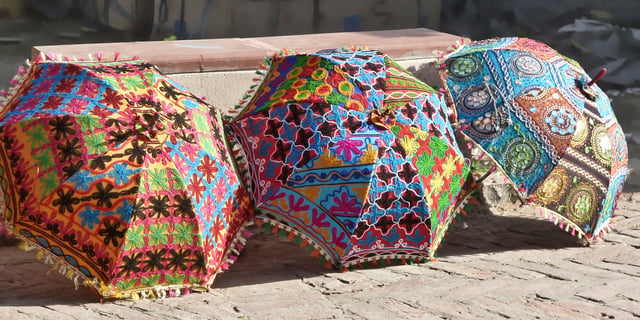 Lajpat Nagar, Central Market
Bargaining is expected at most local markets, but Central Market, Lajpat Nagar may take the gold. Just observing the Delhiites flaunt their negotiation skills is worth the visit. Haggling aside, the lanes are packed with jewelry, textiles, handbags, shoes, and accessories for all ages. My favorite stores include The Prakash Collection (be sure to explore the basement!) and shoe stalls (opposite KFC). Plan your visit in the mornings for smaller crowds and cooler weather.
A warm thank you to my sister-in-law, Datri, for being my shopping companion, translator, and bargaining teacher the past decade!
*As a Delhi Destination Expert for AFAR, the following spots can be found on the AFAR Delhi Destination Guide. Check it out for more suggestions of places to dine, shop, drink, and explore.