We are very excited for the opening of Haveli Dharampura, owned by friends of Sodha Travel. The hotel is nestled in Chandni Chowk, a location we adore for the eclectic mix of shops, eateries, and local flair. Considered one of the oldest and busiest street markets in India, Chandni Chowk is also positioned between two important historical sites: the Red Fort (Lal Qila) and Fatehpur Masjid, a 17th century mosque. (For more on the hustle and bustle, check out Spotlight: Chandni Chowk)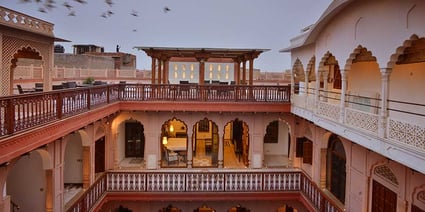 In the past, most travelers considered Chandni Chowk a place to visit, shop, and eat – not book a hotel room. However, this will change on March 1st with the opening of Haveli Dharampura. The 200-year-old heritage property features 13 rooms, all named after gates in Old Delhi. Outside the front door, guests can endlessly explore the labyrinth of bustling streets housing food stands, sweet shops, spice markets, historical sites, and temples galore. The seven-year restoration of Haveli Dharampura is a true testament to the Goel family's dedication of meticulously merging traditionalism and modernity.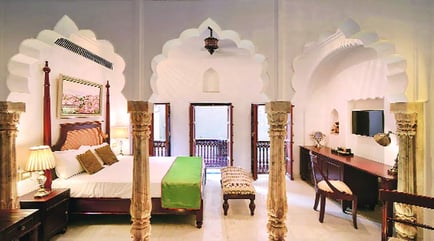 Haveli Dharampura is a new hotel that changes the way travelers see Old Delhi. There is no other heritage hotel in the area that captures the scene of Chandni Chowk. With Haveli Dharampura already being featured in such publications as Conde Nast Traveller India, India Today, and Little Black Book Delhi + Gurgaon, we are certain the venture will be a grand success. Many congratulations to the Goel family!