Mother and Motherland are dearer than the heavens. This is the motto of the enchanting country of Nepal. This month, we are featuring our Legends of Nepal tour. Spend 9 days/9 nights in Kathmandu Valley, Pokhara, Chitwan and Dhulikhel. Nepalese culture is similar to the neighboring countries of China and India and the folklore is often illustrated in dance and music. For a small territory, Nepal also boasts an uncommonly diverse terrain, including eight of the world's top ten highest mountains. In addition to spectacular views, this allows adventure travelers to climb, cycle, and trek throughout the country and engage with the locals in the hillside villages.
Jonathan and Liz Smalls from Denver, Colorado recently returned from our Legends of Nepal tour and sent the following note: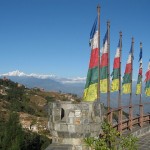 "Nepal is a beautiful country and the people are some of the friendliest in the world. We had a wonderful time exploring the towns, meeting the villagers, and learning about the rich history. Our highlights were the flight over Mt. Everest, safari in Chitwan National Park, and cooking lesson in Kathmandu. We also appreciated your restaurant and shop recommendations. Thank you for spending so much time on our itinerary. You really listened to our preferences and added personal touches, including the private cooking lesson. What a treat to spend time with a local family and learn new recipes! Our objective for this trip was to be immersed in the culture and be travelers and not tourists. You coordinated a well-balanced package that kept us safe, comfortable, and engaged. Thanks again!"
Thank you, Liz and Jonathan! And for those of you interested in sampling the Nepalese traditions: Reserve this tour in the month of June and receive $200 per person!