Jawaharlal Nehru, the first Prime Minister of India, once said, "There is no end to the adventures we can have if only we seek them with our eyes open." India's diverse landscape and climate make it an exciting destination for adventure travelers. From trekking to rafting, scuba diving to camel expeditions, there are often too many enticing options. Additionally, India remains one of the most affordable destinations in the world, allowing travelers of all budgets to explore the panorama of this ancient civilization. Here is a brief summary of possible adventure activities throughout the country: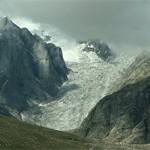 Trekking
The Himalayas provide trekking itineraries from beginner to expert and offer commanding views of Mt. Everest in Nepal, Mt. Kanchenjunga in Sikkim, and Mt. Chomolhari in Bhutan. Trekking options include the Markha Valley in Leh, Gangotri Glacier in Uttarakhand, and Singalila Ridge in the Darjeeling Hills. The Nilgiri Hills in Tamil Nadu is also a favored area. The lush, green mountains offer intermediate trails and allow travelers to interact with various indigenous groups.
Skiing
From January – March, downhill skiing is offered at selected resorts in Uttarakhand and Himachal Pradesh. Heli-skiing is available in Manali in the Kullu Valley. Gulmarg is considered a skier's paradise, but its location in the political unstable region of Jammu and Kashmir has resulted in unexpected closures.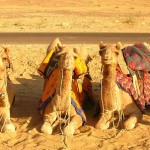 Camel Expedition
The Thar Desert in Rajasthan is the perfect backdrop for India's ancient forts and palaces. Travelers can explore the colorful and vibrant cities on camels (or horseback) in this princely state where traditions remain. At night, camp under the desert sky or stay in havelis, private mansions converted to hotels.
Mountain Climbing
The states of Himachal Pradesh, Sikkim, and Uttarakhand provide spectacular climbing opportunities. (If traveling to Sikkim, a special permit is required.) Manali's Institute of Mountaineering and Allied Sports offers skill courses from May – October, and rock climbing is available nearby. Mountaineering expeditions must register with and be approved by the Indian Mountaineering Foundation in Delhi, though this is usually facilitated by the tour company.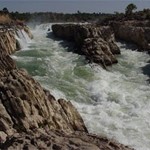 Rafting and Kayaking
From September – April, the Himalayan Rivers offer world-class rafting and kayaking. The Alaknanda River, on which Sir Edmund Hillary undertook his Ocean to Sky jet boat expedition, emanates high in the Himalayas and has a pristine rafting stretch through several gorges. The Ganges is considered a holy river by Hindus and worshipped as a Goddess. Travelers will observe numerous devotees bathing and praying in the river during an expedition.
We invite you to view our Adventure Tours for more information about sample adventure itineraries in India. More activities will be posted in Part II, coming next week.