Award-Winning Travel Specialists
Located in beautiful Portland, Oregon, Sodha Travel is a licensed and insured agency whose current memberships include:
The American Society of Travel Agents (ASTA)

The International Ecotourism Society (TIES).
Our continued success is built on the philosophy of creating relationships with our clients and not just transactions.
We are proud to be rated 5-stars by independent traveler reviews and we enjoy personalizing each package to ensure you have a memorable travel experience.
Recipients of Multiple International Awards
Our destination management company has received widespread international recognition, including:
India Ministry of Tourism's "National Award for Excellence in Service"
World's Leading Destination Management Company
National Tourism Award for Responsible Tourism Project/Initiative – Empowerment of Women through Literacy India & Fair Trade
Pacific Asia Travel Association (PATA) Gold Award
Experience the Real Culture and Customs of South Asia
We are proud of the fact that we serve a worldwide clientele with diverse budgets and interests. Some of our clients prefer a comprehensive touring package while others enjoy an independent schedule.
In fact, over the years, we have discovered that most travelers do not want to experience a country as a tourist. Instead, they prefer to be global participants who integrate with the culture.
That's why we encourage our clients to interact with the locals and truly explore the destinations — whether by foot, through the cuisine, or by keeping an open mind. It is also why we consider our guides and representatives as "hosts" who invite you to share in the history and customs of the community.
South Asia Experts
We are often asked why we don't extend our services to other destinations.
Sodha Travel prefers to concentrate on the areas we truly know and adore. Many companies can offer a good value or innovative itinerary, but this is what sets us apart – our experience and passion for South Asia.
Our clients often develop a personal connection with the land, people, and cultural philosophy. Many return again and again, and this is a true testament to our level of service and advocacy.
Helping to Make Our Destinations a Better Place
Through the years, Sodha Travel has maintained a commitment to sustainable business practices. This not only applies to the administrative elements of our company but also through Responsible Tourism: leaving the destination a better place than when you found it.
As a member of TIES, the largest and oldest ecotourism organization in the world, we continue to seek new ways of incorporating sustainability and conservation in our industry.
Let's Start The Journey Together!
The Sodha Travel team invites you to join our community of travelers. Together with our certified partners and operators, we look forward to being a part of your journey.
A Message from the President
In my youth, I was fortunate to travel the world by air, land, and sea. I always had an unexplained affinity toward India and I nurtured this curiosity by receiving my degree in Religious Studies with an emphasis in Religions of India from the University of Colorado. Post-graduation, I continued my independent research on India's socioeconomic development and its relationship with traditionalism. Then, after years of researching the country's spiritual lifeline, I made my first trip to India – and my life was forever changed. After landing in Delhi, I learned that the airline lost my luggage. Upon arriving at the hotel, I discovered that no room was available. So, as is standard protocol, I waited in the hotel lobby with an associate from the travel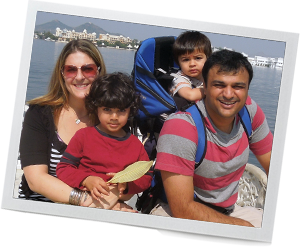 company who locally operated my tour. His name was Parth. We talked about everything India, and after four hours the room was ready and I said goodbye. But India had other plans. Six weeks later, I returned to the country. Two years later, Parth and I were married. Sodha Travel was born from my desire to share the beauty of India with the world. Since then, our services have extended to other destinations - but our passion remains the same. To me, traveling is a multifaceted relationship: a relationship with other cultures, a relationship with other people, and ultimately a relationship with our own self. After extensively traveling throughout the region, I continue to be amazed by India's ability to transform at such a rapid pace and yet fluently maintain its cultural, historical, and spiritual treasures. To our past clients, we thank you. To our future travelers, we welcome you. Enjoy the Journey!
- Allison Sodha
P.S. Interested in learning more about India? As a Local Delhi Expert and Special Correspondent for AFAR, I have written and curated content on the best places to shop, dine, stay and play in Delhi and beyond. Check out the AFAR Guide to Delhi and my own Wanderlists for inspiration. Cheers!